Roof Repair Company in White Plains, Newburgh, & Nearby
Quick & professional roofing repairs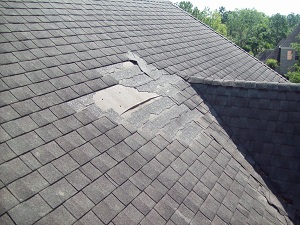 From broken shingles to serious storm damage, all roof damage requires the right repairs.
Does your home have roofing problems, including storm damage, natural wear and tear, or roof leaks? Ignoring issues like these can lead to permanent and costly roof problems in the future. That's where Klaus Larsen Roofing of Hudson Valley can help! As Hudson Valley's trusted roofing contractor, Klaus Larsen Roofing of Hudson Valley understands how timely roof repairs can extend the lifespan of your roof. These services can also enhance the home's curb appeal, improve energy efficiency, create better security, and even increase the overall property value!
Plus, if you're unsure whether your home needs roof repairs, we also offer thorough roof inspections! During this time, we can identify roofing problems and offer roof repairs based on your unique situation, preserving the home! Get a free roof repair estimate to learn more. We serve New York homeowners throughout White Plains, Carmel, Newburgh, and nearby.
Prevent future damage with roof repairs
Roofing problems aren't always noticeable. Storm damage can take months or years to surface. Even worse, neglecting these issues can put the rest of the home at risk and cause problems to become more complicated. So if your home has water intrusion, a pest infestation, or energy efficiency issues, these may be signs of roof damage. Plus, if your home doesn't have roofing problems, regular or periodic roof maintenance prevents future issues that can lead to high-cost repairs.
Some noticeable signs of roof damage include curled shingles, loose shingles, or missing shingles. Other roof problems may not be visible without a close-up inspection, such as hidden roof leaks under shingles, flashing damage around chimneys, and missing granules. For example, wet underlayment can lead to mold growth and moisture damage. Preventing costly damage and unexpected repairs can be as easy as scheduling periodic roof inspections and routine maintenance. Also, fixing damage at the first sign of potential problems will minimize roof repair costs.
So whether there are missing shingles, hail damage, or roof leaks, Klaus Larsen Roofing of Hudson Valley can fix these problems and prevent future issues with our roof repair services. Plus, we can offer roof inspections, assessing the condition of the entire structure and asphalt shingles, allowing us to recommend the roof repairs your home needs — nothing more or less.
Signs of roof damage:
Wood rot on the roof
Damaged roof flashing
Mold & algae stains
Missing & broken shingles
Water spots on interior ceilings & walls
Sagging roof deck
Granule debris in gutters
Peeling exterior paint
Higher energy bills
And more!
Wood rot, hail damage & common roofing problems
Did you know that wood rot is one of the most common roofing problems? While the entire roof is vulnerable to wood rot, areas near the roofline and overhang are the most exposed and vulnerable — this includes the soffit and the fascia. Birds and pests can cause more damage from nesting in the soffit and other soft spots left by wood rot.
Other common issues include hail damage, leaving behind dents and dark spots. Hail shingle damage will lead to roof leaks and water intrusion, causing even more roofing problems and issues to the home's interior walls and ceilings.
Common roofing problems that we fix:
Does your home have any of these common roofing problems? Contact us for a roof inspection today! We can provide lasting roofing repairs that will leave your home better protected and more secure.
Wind damage
Damage from trees
Hail & storm damage
Damaged shingles
Rusted or broken vent boots
Damaged gutters & downspouts
Damaged chimney flashing
Roof Leaks
Roof flashing
Improper roof ventilation
Wood rot on new roofs
And more!
Trust us with your roof repairs!
Klaus Larsen Roofing of Hudson Valley is your professionally-trained roofer serving Hudson Valley. We strive to deliver superior roofing services by installing quality roofing materials and providing top-notch customer service. We want to be your roofer for the long haul, so we ensure reliable repairs that you can trust! Our crew offers expert craftsmanship and quality solutions for just the right price.
Not sure if your home needs a roof repair or replacement? Schedule a roof inspection and a free service estimate to learn more! We serve New York homeowners in Rye, Kingston, Poughkeepsie, Yorktown Heights, Middletown, New Windsor, Mahopac, Newburgh, Carmel, White Plains, and nearby.
Looking for a price? Get a no cost, no obligation free estimate.