Roof Replacements in White Plains, Carmel, Newburgh, & Nearby
Hudson Valley roofer offering reliable new roof installations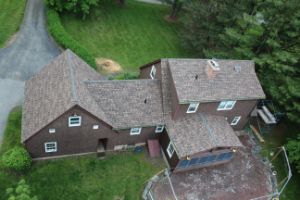 A roof replacement can save you thousands on endless repairs. Plus, it will add value to your home.
To create a safer, more beautiful, and more comfortable home, you'll need a reliable roofing system – this is why a roof replacement should include more than just a new layer of shingles. If your roof has experienced severe damage, has recurrent problems, or is outdated, then replacing your system may be more cost-efficient than repairs.
The roofers at Klaus Larsen Roofing of Hudson Valley understand roofing structures and apply modern techniques to keep the system protected from harsh weather, temperature fluctuations, water intrusion, and more!
Schedule a free roof replacement estimate to learn more. We serve New York homeowners in White Plains, Carmel, Newburgh, Kingston, and nearby.
Recent Testimonials
"For the price, the quality is fantastic. I will refer them to friends & family in need of an efficient,..."

David K. of White Plains, NY

"Chris Dee, sales consultant, WOW what can I say. Many offers but his presentation really was the BEST. No..."

Tyrone B. of Peekskill, NY
Benefits of a roof replacement
To ensure your house is protected, it's essential to keep up with regular maintenance on your roof and, when the time comes, hire a professional roof replacement company. Your roof faces wear and tear over the years, from severe weather conditions and natural disasters to small pests and lost sports equipment and frisbees. Although some issues call for a simple repair, a complete roof installation could help eliminate the need for multiple costly repairs down the road.
Replacing your roof comes with a long list of benefits for both your home and your wallet. Check out some of the main reasons homeowners throughout Hudson Valley are replacing their roofs:
Cost-efficient: With the right roof replacement company, a new roof can last a lifetime, making this a one-time expense for you!
Resale value: When you go to sell your home, one of the first things potential buyers notice and ask about is the condition of the roof. Even though you are trying to sell, a new roof installation will add more value to your home.
Repair all damages: Whether a severe storm has left major damage to your roof or years of neglect have left a few smaller issues, a total roof replacement can fix it at once.
Our roof replacement services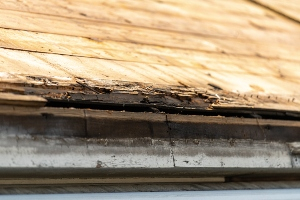 Whether your roof is suffering from wood rot, loose shingles, or other damages, Klaus Larsen Roofing of Hudson Valley can help with all your roof replacement needs!
You want to feel safe under your roof, which means every part of your new roof should be installed properly and every roofing issue you had before should be resolved. When it comes to installing a new roof on your home, Klaus Larsen Roofing of Hudson Valley's expert roof replacement contractors can handle it all. Learn more about all the steps we take to ensure your roof needs replacing and how we do it:
One of the most important parts of any kind of roofing project is performing a roof inspection. An inspection allows the roofers to determine what your roof's issues are and what the best option is to create a long-lasting solution.
The surface of your roof might need an upgrade but underneath is still in great condition, so do you really need a full roof replacement? An asphalt shingle roof replacement repairs the outer layer of roofing, without having to take up the underlayment.
When it comes to improving the look and security of your home, the roof can make a big impact. That's why we install metal roofing by Provia, mimicking beautiful roofing types like cedar shake and slate without the disadvantages. Metal roofing withstands harsh weather, including 180 mph wind speeds and is certified for hurricane zones. Our metal roofs also exceed the industry standards for hail, wind, rain, corrosion, and tensile strength.
How is a roof replacement more affordable?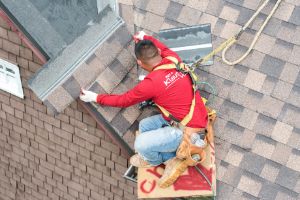 A roof replacement is a practical investment in your home.
Does your roof experience reoccurring roof leaks, shingle damage, or other issues? Water intrusion, wood rot, and other damages are sometimes too severe to fix with a roof repair and could be a sign of issues within your roofing system. Plus, continuous repairs may only serve as temporary patches and can become much more expensive in the future.
In that case, a roof replacement would be more cost-efficient. A new roof installation is also more economical than re-roofing since you won't have to worry about old problems coming back. By installing brand-new materials, you eliminate problem areas altogether. By having a professional roof replacement company install your new roof, you can rest easy knowing your home is protected.
Klaus Larsen Roofing of Hudson Valley has expertly trained roof replacement contractors to ensure every job is completed to the highest roofing standards; The Klaus Roofing Way.
Signs that you may need a roof replacement:
Your shingles are broken, torn apart, coming off, buckling, cracked, or missing
Your roof is leaking into your home and creating warped spots on interior ceilings and walls
The shingles on your roof are discolored, missing, or look worn down
The flashing on your roof is damaged
There are signs of wood rot and mold, which can further deteriorate your roof
Your roof is 20 years old or older
Reasons for a roof replacement
There are many reasons why a roofer may decide that a roof replacement is more effective than performing roof repairs, some examples of this include:
Updating old roofing: While all roofs will eventually break down, common materials like asphalt shingles and metal roofing last about 20 years. Roofs that are 20 years old or older may not be able to protect your home from leaks, wind, storms, and other issues.
Fixing severe damage: While roof repairs are great for fixing minor issues, it is more cost-efficient to replace the entire system when there is severe damage. A roof inspection can help determine the severity of damages and whether you need repair or replacement services.
Repairing storm damage: Extreme weather and hail storms can also cause severe roof damage. Even if your roof seems fine after a storm, damage can take months or even years to become obvious. After a harsh storm, it is best to evaluate the condition of your roof with an inspection.
Boosting curb appeal: Whether you've purchased a new house or are making renovations to your property, a new roof installation can add value, security, and beauty to any home.
What about a partial roof replacement?
After a thorough roof inspection, a roofing contractor may offer the option of installing a partial roof replacement. This means that only a section of your roof is replaced. While a partial roof replacement acts as a quick fix, there are potential issues with this option.
For starters, when your whole roof is first installed it has the same lifespan. Replacing only a section of your roof changes how long your roof will last, which will change when you should have the entire roof replaced next. A partial roof replacement could cost more down the line because you replaced one section a few years ago, but the rest needs to be replaced later.
At Klaus Larsen Roofing of Hudson Valley, we do not recommend partial roof replacements because we want to ensure your entire roof is protected all at once.
Roof replacements you can count on
When it comes to choosing a roofer, you want to avoid the same old business practices offered by dishonest contractors. Things like shoddy workmanship, late or missed appointments, poor communication, property damage, and messy construction sites are all too common in a typical roof replacement project. Also, unless you are a roofer, it is hard to trust the quality of their materials and the finished product.
Klaus Larsen Roofing of Hudson Valley prevents water and wind intrusion by improving your roof at every layer and seam - this is why we stand by The Klaus Roofing Way, which promises:
An on-site project manager & active communication from start to finish
Superior craftsmanship from highly trained roofers
Improvement at each layer of the roofing system to protect against roof leaks
Property protection & courteous service throughout the roof replacement project
Choose a roofer you can count on
Roof replacements are a major home investment – that is why Klaus Larsen Roofing of Hudson Valley has committed to The Klaus Roofing Way, which guarantees unbeatable customer service, solutions, and value all throughout your roof replacement project. Our roofers work with you to create the results you want, even long after your roof replacement is complete. Our no-nail guarantee also ensures that you won't find any loose nails after we clean up. If you do, we'll pay you $1 for every nail you find - up to $100!
Not only are we committed to providing you with quality roof replacements, but we also offer free, no-obligation inspections and service estimates. We proudly serve New York homeowners in Poughkeepsie, Kingston, Rye, Middletown, New Windsor, Mahopac, Yorktown Heights, and areas nearby.
Looking for a price? Get a no cost, no obligation free estimate.