Roof Inspections in Hudson Valley
Keep your roof in shape with regular roof inspections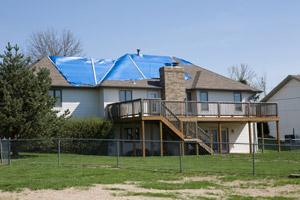 Whether you've experienced severe weather or are planning to sell your home, a roof inspection is necessary.
All roofs face years of wear and tear and eventually start to show their age. A roof inspection is necessary to check and maintain the quality of your roof. Every home should have a roof inspection frequently performed, whether it's in preparation for a sale, survived a severe weather storm, or is past its warranty. A roof inspection will ensure that your home can withstand harsh weather, is structurally sound and secure, and will last for years to come.
If your home needs a roof inspection, contact Klaus Larsen Roofing of Hudson Valley today. We provide professional roof maintenance and roofing services throughout Carmel, White Plains, Newburgh, and nearby areas.
What to expect from a home roof inspection
Klaus Larsen Roofing of Hudson Valley provides thorough home roof inspections to ensure the structural integrity is intact. We carefully evaluate every aspect of your roof and identify any potential problems, future repairs, or replacements.
Our roof inspections check for all of the following:
Missing, broken, or torn shingles
Worn shingle granules
Cracked or missing caulk
Moss or algae growth
Rusted or missing flashing
Damaged or worn soffit
Broken ridge vents
Wood rot or sagging areas
Cracks in a chimney or missing caps
Loose gutters
Damaged rubber boots around pipes
Torn underlayment
And more!
After our professional roofers finish your home roof inspection, we provide you with recommendations of what you need to do to keep your house protected fully.
---
Interior roofing inspection in the attic
If your roof is damaged or has a problem, it can also cause issues within your attic - and vice versa. When our roofing specialists inspect your home's roof, they also will inspect the interior attic space and identify any present issues. Common roofing and attic problems that can lead to bigger issues for your home include:
Pests: Pests are a sign of small entry points. Once inside, they can cause even more damage.
Rot & leaks: Wood rot usually occurs in areas where there are leaks, like by the chimney.
Mold: Mold is caused by air seeping through the home and condensing on the roof deck.
Unvented bath fans: Unvented fans create hot air that seeps through the house and onto the roof.
Structural issues: Roof structural issues can impact the entire home.
Your attic and roof play fundamental roles in keeping your home secure from outside threats, but who preserves them? Klaus Larsen Roofing of Hudson Valley's roofers can professionally inspect both your roof and attic to ensure your home is protected from the inside out.
---
Benefits of a roof inspection
Being a homeowner comes with many responsibilities to keep your home in good shape, including regular roof maintenance. When your roof is strong, the rest of your home is protected against potential outside threats and damage. Having your roof inspected every few years will allow you to resolve the smallest of issues before they have the chance to cause major damage and put a hole in your wallet. Check out all the reasons we at Klaus Larsen Roofing of Hudson Valley believe you should have a roof inspection done:
Extend your roof's lifespan: Maintaining routine roof inspections can help to increase the durability of your roof and save you from having to replace it.
Cost-effective: Detecting an issue with your roof early on allows for a smaller, less expensive repair instead of waiting for major damage to occur and receiving a hefty bill.
Selling advantage: If you ever decide to sell your home, you can rest assured that the roof is covered! Having a professional home roof inspection done will put a potential buyer's mind at ease.
Possible damage: After any major storm passes over your home, it is always a smart idea to have your roof inspected for damage. Whether you had a roof inspection done six months ago or not ever, bad weather can leave behind the smallest amount of damage that over time turns into a large, costly roof repair.
Many homeowners believe that a roof inspection is more of a cautionary tale told to people buying their first home when in reality, it is a smart precautionary measure to help you save more money and protect your home for years. Klaus Larsen Roofing of Hudson Valley specializes in home roof inspections and more roofing services to provide you with the best roofing solutions throughout Hudson Valley.
When should you get a home roof inspection?
Although it never hurts to have a roof inspection done, we have done the research and can tell you the best times to schedule one. According to Zillow, homeowners should have a roof inspection done at least once a year, if not more. Most homeowners wait until after a severe storm passes, and they notice missing asphalt shingles, leaks in their attic, wet soffits, broken ridge vents, torn underlayment, or other small amounts of damage. Waiting to see what destruction occurred before having an inspection done is an expensive and ineffective way of protecting your home.
At Klaus Larsen Roofing of Hudson Valley, we strongly recommend having your roof inspected at least twice a year, once in the fall, to ensure your roof is ready for the winter weather and again in the early spring to assess what damage occurred and prepare for summer. Performing home roof inspections during these times allows you to play on both the offense and defense and keep your roof at its strongest.
Another great time to have your roof inspected is before you sell your home or purchase a new one. Having a professional roof inspection done can save you from a pricey repair down the line.
Signs you need a roof inspection
Many homeowners are unsure of what signs to look for to determine whether they need a roof inspection. Klaus Larsen Roofing of Hudson Valley wants to help homeowners throughout Hudson Valley best take care of their homes, which is why we created a list of different issues to be on the lookout for in regard to the security of your roof:
Aging: Even with normal wear and tear, every roof comes with an average lifespan of about 15 to 20 years. Conducting regular roof maintenance or a roof inspection every few years can help to catch potential issues early and keep your roof in top shape.
Shingle damage: When you notice an asphalt shingle or two curling up, buckling, or missing, it is a good time to have a professional inspect your roof.
Discoloring: Even through extreme weather changes, your asphalt shingles are not supposed to change colors or grow moss. If you notice a section of your roof starting to change colors, rust, or grow moss, schedule a home roof inspection.
Granules in gutters: Asphalt shingles are installed with a UV ray protective coating called granules. When the granules start to come loose, they will fall into the gutters. Although this is normal for asphalt shingles, it is still a good time to have a roof inspection performed.
Expired warranty: Some roofs even come with a warranty to keep your mind at ease, but when the expiration date starts to creep up, be sure to have your roof inspected.
---
Hiring a professional to conduct a roof inspection
The roof is one area of your home that you should not trust just any contractor. If you have serious concerns about your roof's structural integrity, you want a professional who can identify the problem and provide the best solution. At Klaus Larsen Roofing of Hudson Valley, all of our roofers are trained professionals specializing in every roofing service we offer to ensure you are always working with a knowledgeable contractor.
We pride ourselves on our ability to help people with all their roofing maintenance and repair needs. Our expert roofers have seen it all, including missing asphalt shingles, wet or dry rot soffits, rusted flashing, broken ridge vents, torn underlayment, and major leaks.
When our roofers notice one minor issue, we can recommend a fast, efficient, and cost-effective solution for you. A roof inspection performed by one of our roofing specialists can have you sleeping peacefully knowing that your home is completely covered.
---
Get a comprehensive roof inspection today in Carmel or nearby!
If you need a home roof inspection performed, contact the local roofing experts at Klaus Larsen Roofing of Hudson Valley today. Our professional roofers are trained to inspect the roof's structural integrity, materials, craftsmanship, and interior elements to ensure it can withstand the next severe storm or everyday wear and tear. After we complete our examination of your roof, we can recommend and perform any possible roof services if needed, including a roof replacement or roof repairs.
Contact Klaus Larsen Roofing of Hudson Valley to see how we can help you solve all your roofing problems today! Click below or call 1-844-471-0120 to schedule a roof inspection or a free estimate on any of our roofing services. We provide a variety of roofing services to homeowners in Poughkeepsie, Kingston, Rye, Middletown, New Windsor, Mahopac, Yorktown Heights, and nearby.
Looking for a price? Get a no cost, no obligation free estimate.