Asphalt Shingle Roofing in Carmel, Rye, & Nearby
We install superior architectural asphalt shingles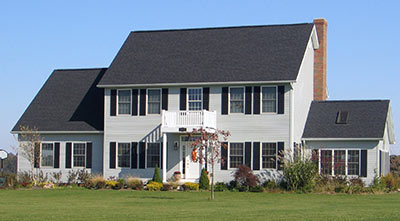 Klaus Larsen Roofing of Hudson Valley provides quality at every layer, seam, and juncture to install roofing systems as secure as they are beautiful.
The shingles on your roof represent the first line of defense from the elements, including rain, snow, ice, hail, falling debris, and more. Architectural asphalt shingles installed by Klaus Larsen Roofing of Hudson Valley are an excellent, affordable option in the roofing material market. They are engineered for superior performance and durability against the elements with an array of shingle color options.
Have questions about replacing your roof? We can go over your roofing replacement options and recommend the perfect solutions for your home. Contact us to schedule a free service estimate today. We proudly serve New York homeowners in Newburgh, Carmel, White Plains, and areas nearby.
Our long-lasting & affordable asphalt shingles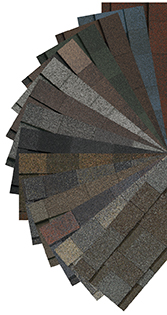 Klaus Larsen Roofing of Hudson Valley installs asphalt shingles designed with resilient fiberglass, asphalt coatings, and high-quality sealants to deliver strength and protection against the elements. Our multi-layered asphalt shingles are also heavily weighted and securely bonded to provide extra security against severe weather, water intrusion, and shingle blow-off caused by wind uplift.
Plus, these highly customizable roof shingles come in a wide range of colors and styles – so you can find the perfect match for your home. With deep shadow lines and contours, we can create a unique roof profile that is bound to boost your home's curb appeal!
Benefits of our asphalt shingles:
Asphalt roofing shingles remain a popular choice in many roof replacement applications. As a durable, affordable, and aesthetically pleasing option, asphalt shingles are a flexible solution for homeowners in many regions and climates.
Water-resistant
Severe weather-resistant
Affordable
Thick & dimensional design
Wind-resistant up to 130 MPH
UV-resistant against fading & weathering
Algae-resistant
Fire-resistant
Low-maintenance
Available in many colors
Matches many home types
At Klaus Larsen Roofing of Hudson Valley, we take an integrated systems approach to roofing, ensuring leak-proof protection at every angle. Our professionals offer open communication, superior materials and techniques, no damage to your property, and thorough cleaning after the project is complete.
Asphalt shingle roof replacement
It takes more than a new layer of shingles to provide a durable, leak-proof asphalt roof replacement. Klaus Larsen Roofing of Hudson Valley offers comprehensive asphalt shingle roof replacements, in which we do away with the old roofing and build you a customized, long-lasting roofing system to fit your needs.
We install high-performance asphalt shingles using the Klaus Roofing Way, ensuring the highest quality of work every time. From asphalt shingle repairs to full asphalt roof installations, our team protects your property, communicates clearly, uses nothing but the highest-quality tools and techniques, and even offers a No-Nail Pledge, promising $1 for every nail found after cleanup, up to $100.
The architectural asphalt shingles we install offer superior performance to many alternative materials. Plus, when installed by our professional, highly trained team, you'll have an asphalt roofing system that you can count on for years to come.
Products
IKO is a family-owned company that is committed to manufacturing quality residential and commercial roofing products since 1951, with the company motto "Setting the Standard" to embody the quality, durability, and innovation they do every day.
IKO Roofing Shingles
For beautiful protection that's engineered to last, IKO roofing shingles set the standard. Their shingles are available in a wide range of different styles and designs so that you can find the perfect shingles for your home.
Unlike other roofing contractors, IKO manufactures or controls most of the raw materials they work with allowing them to make sure they use only the best. They've even formulated their own special sealant and were among the first to introduce metric-sized shingles.
A better approach to asphalt roofing
Building strong asphalt shingle roofing means providing quality at every layer of the system. Our roofers are highly trained in modern roofing techniques and understand how to reinforce your roofing system – this is how we create a roof that provides protection and strength at every level. Using The Klaus Roofing Way, we reinforce and install:
Roof decking
Synthetic underlayment
Asphalt shingle roofing
Starter strips
Attic & roof ventilation
Flashing
Schedule a free asphalt roof replacement estimate
Unlike other roofers who cut corners, Klaus Larsen Roofing of Hudson Valley takes care in every step of your project and uses superior methods, craftsmanship, and products to create a secure roofing system.
Want to learn more about our affordable and durable asphalt shingle roofing? Schedule a free asphalt roof replacement estimate today! We proudly serve New York homeowners in Rye, Kingston, Poughkeepsie, Yorktown Heights, Middletown, New Windsor, Mahopac, and areas nearby.
Looking for a price? Get a no cost, no obligation free estimate.