Roof Ventilation Services in White Plains, Newburgh, & Nearby
Roof soffit vents, gable-end vents, & ridge vents
While many think the roof is only supposed to keep a home dry. The roof can't do this without proper ventilation. Roof vents are installed at the roof's peak, offering an exit for heat, hot air, moisture, and odors trapped in the attic. When the roof is well-ventilated, it can boost your home's energy efficiency, improve interior comfort, and extend the lifespan of your shingles.
To create a better-ventilated roof, contact Klaus Larsen Roofing of Hudson Valley! We install and repair ridge vents and other types of roof vents. Contact us to get a roof inspection or to schedule a free roof repair estimate. We proudly serve New York homes in Kingston, White Plains, Carmel, Newburgh, Rye, and nearby.
Prevent roof damage with ridge vents & roof ventilation
Roof ventilation helps your heating and cooling system run more efficiently by allowing hot attic air to escape. It also protects against condensation issues that can damage attic and roofing materials, such as insulation and shingles, by preventing moisture buildup.
Attic ventilation is crucial during winter since they keep ice dams from forming on the roof. Ice dams form when water from melting snow freezes along the roofline, which can cause significant damage to your home. As the ice builds up, water can't drain off the roof. Rather than draining into the gutters, it pools on the roof's surface, where it can seep under shingles and leak into the home.
Roofs that are properly ventilated work in tandem with your attic's insulation to keep the roof surface cold. This ensures that snow won't melt on the roof, freeze, and form ice dams along the eaves. When installed on an asphalt roof, ridge vents are usually covered by a layer of shingles. Warm attic air naturally rises to the roof peak and escapes through the ridge vents.
Types of roof vents
Certain types of roof vents offer different strategies for achieving reliable roof ventilation, including:
Ridge Vents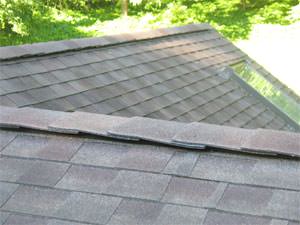 Ridge vents are commonly installed on the roof peak and are probably the most important vents in any "passive" or non-electric roof ventilation system.
The vents allow hot attic air to rise and escape outside the home. In the photo, the ridge vent openings are the continuous space on each side of the ridge cap.
Soffit Vents
Soffit vent grilles run parallel to eaves along the soffit. This system works with ridge and gable vents to promote effective roof ventilation. Soffit vents let outside air into the attic so that warm air can exit through higher vents.
Most vents run continuously under eaves. But rectangular or circular vents can be installed in soffits where there is no strip.
Gable-End Vents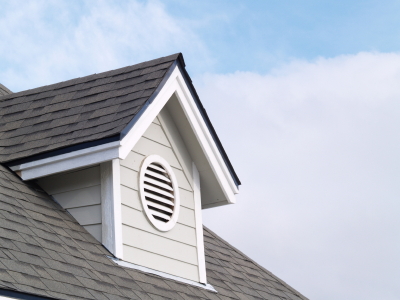 A gable-end vent is a screened vent installed near the peak of a gable end. The screen allows hot air to exit the attic and fresh air to enter, depending on the outside breeze and temperature.
If your attic doesn't already have efficient airflow, then a roofer may recommend a gable-end vent.
Proper Ventilation helps your roof last longer
Do you know whether or not your roof is well-ventilated? Call 1-844-471-0120 or click below to contact Klaus Larsen Roofing of Hudson Valley and get a free roof inspection. If we identify roof ventilation issues, we can recommend the perfect solution.
We provide professional roof repairs and roof replacements to New York homeowners in Rye, Kingston, Poughkeepsie, Yorktown Heights, Middletown, New Windsor, Mahopac, Carmel, White Plains, Newburgh, and nearby. Schedule a free estimate to see how we can improve your roof!
Looking for a price? Get a no cost, no obligation free estimate.