Wood Rot Repair in White Plains, Carmel, Newburgh & Nearby
Prevent wood rot & increase resale value with roof repairs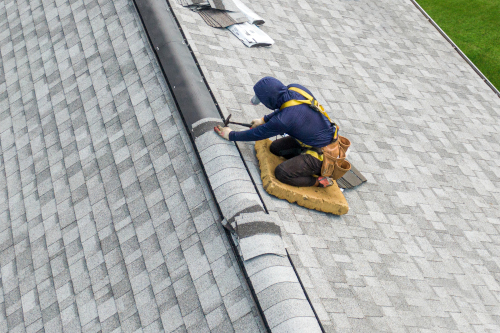 We prevent wood rot with roof vents, which allow warm air to escape, lowering the moisture and relative humidity in the house.
Wood rot can often go unnoticed until it is too late. Sometimes it comes up when a roofer is going to replace asphalt shingles — until you learn the decking, rafters, or ridge board is rotting. When left to worsen, wood rot spreads, leading to foundation damage, including rotting structural beams or joists in the basement or crawl space. And when a home has significant signs of wood rot, it can cause a loss in resale value. That's why we always recommend taking action at the first sign of issues.
But there is no reason to worry! The reliable roof repair services from Klaus Larsen Roofing of Hudson Valley prevent wood rot. Plus, we even offer wood rot repairs and other restoration solutions if your roof may have it. Our strict standards under The Klaus Roofing Way protect your system at every layer, ensuring the best materials, service, and craftsmanship to create a roof that lasts for years!
Not sure if your roof has wood rot? Get a roof inspection or a free service estimate to learn more. We serve homeowners throughout Hudson Valley, including Rye, Newburgh, Kingston, Carmel, White Plains, and areas nearby.
Causes of wood rot in Hudson Valley
Fungal spores that cause wet and dry rot are part of nature and all around us. However, these spores are not always active and rot damage does not occur overnight. In fact, dry rot and wet rot are common fungi decay caused by spores already present in the wood. When exposed to moisture and high relative humidity, the fungi destroy parts of the wood that make it firm.
Dry rot: From the fungal spores of Serpula lacrymans, this wood rot only requires 20% moisture content to grow. Dry rot hides in areas like floorboards or behind walls. If left unrepaired very early, dry rot can spread throughout the home and cause significant damage.
Wet rot: From the fungal spores of Coniophora puteana, this wood rot grows in timber and other porous building materials at 50% moisture. If your roof has wet rot, the spores stop spreading once we remove water leaks and other moisture.
Eliminating the sources of moisture that cause wet or dry rot is the first step. After, we repair roof wood rot. In both instances, the affected timber will need to be replaced. Some signs of wet rot and dry rot include:
Moss & mold growth
Deteriorating shingles
Musty odors
Damaged & weakened wood
Sinking roof deck
Black, orange, & brown spores
Mushrooms on wood
Roofing debris in gutters
Identifying wood rot during a roof inspection
During a roof inspection, Klaus Larsen Roofing of Hudson Valley examines areas where rot will start to grow with an awl or a small screwdriver. Our roofers will poke into suspected spots that look blistered or soft to see how extensive the rot is. Rot is likely to occur in:
Exposed framing in a basement or crawl space
Exterior window sills & door thresholds
Exterior window & door casings/trim
The underside of the roof decking, if accessible from the attic
Roof framing, if accessible from the attic
Fascia, the trim to which gutters are often attached
Rake boards, the trim on the gable end of a roof
Preventing dry rot damage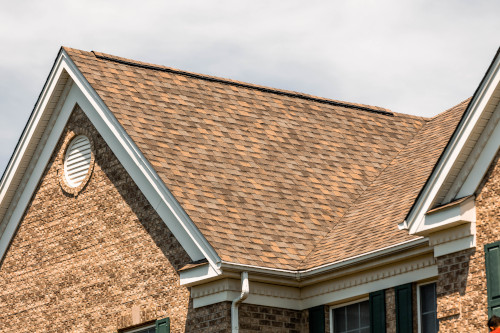 Moisture causes dry rot on the roof and inside the home. That's why routine roof repairs reduce water infiltration and keep everything secure.
Many methods to eliminate dry rot start with your roof. Roofing problems and sagging, clogged gutters can cause significant water intrusion in the home and saturate the ground around your foundation.
Below is our approach to preventing wood rot and home water damage with reliable roof repairs:
Leak-proof roofing: As the leading roofing contractor in Hudson Valley, we offer comprehensive roof repairs that help maintain the condition of your system. That includes repairing leaky roofing, missing or broken shingles, and other areas that can lead to water intrusion.
Roof ventilation & ridge vents: The roof is where your home exhales. Roof vents expel much of the water vapor that builds up. They also play a crucial role in keeping the moisture content in building materials at safe levels. We install vent openings along the ridge and soffits at the eaves. These roof vents are usually continuous to maintain adequate airflow. Warm, often humid, air naturally rises through the ridge vents – and replacement air is drawn in through soffit vents to replace it.
The Klaus Roofing Way eliminates wood rot
If you need effective wood rot solutions in New York, contact Klaus Larsen Roofing of Hudson Valley today! We use The Klaus Roofing Way, following strict standards to create a durable system that ensures reliable home protection. Our roofing contractors provide skilled craftsmanship, quality service, and proven materials for a roof built to last.
Not sure if your roof has wood rot? Schedule a roof inspection or a free service estimate to get started. We proudly serve areas throughout New York, including Newburgh, Carmel, White Plains, Kingston, Rye, Yorktown Heights, Poughkeepsie, New Windsor, Mahopac, Middletown, and nearby.
Looking for a price? Get a no cost, no obligation free estimate.