Ice Dam Prevention in White Plains, Carmel & Nearby New York
Prevent ice dams & water damage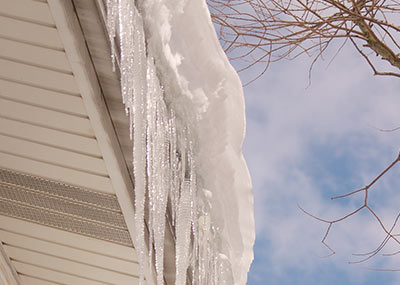 Did you know ice dams can cause interior water damage to ceilings, walls, and floors? Roof repairs and other services can prevent ice dams.
Ice dams are a major concern for homeowners during winter. They can cause home mold, broken shingles, ice damage, and other home issues. If your home has roofing problems and damage, you'll need roof repairs and to be aware of the other expenses that may follow.
When your home's heat melts the snow on the roof, Ice dams form, causing it to trickle down to areas that are below freezing. Ice begins to form along the edge of the roof, preventing the remaining snow on top to properly drain away.
Klaus Larsen Roofing of Hudson Valley protects the roof from ice damage and other roofing problems with our reliable ice dam prevention services. To schedule a roof inspection or a free ice dam prevention estimate, contact us today. We proudly serve New York homeowners in Newburgh, Carmel, White Plains, and nearby.
Damage caused by ice damming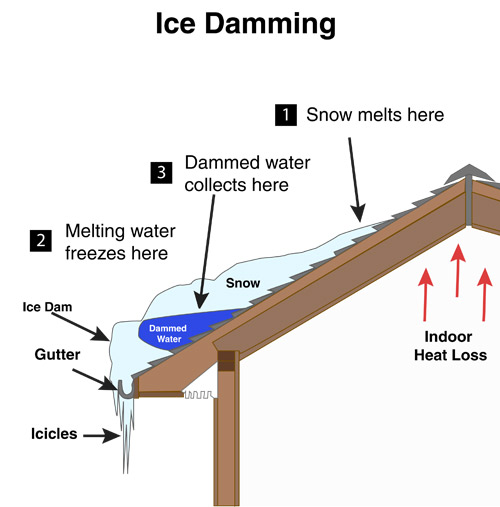 How do ice dams form? When home heat rises, the snow on top of the roof melts. The melted snow flows to parts of the roof that are below freezing. Then water pools, forming ice dams.
Ice dam repairs can be a nuisance. This is especially true because ice damage cause issues for the entire home, including:
Loose or damaged shingles: Ice-damaged shingles leave your roof exposed to the elements. Leaves or debris then settle underneath a loose shingle, causing rot and wood damage.
Wall, floor, & other interior water damage: Water damage is one of the biggest threats to homeowners. It causes weakened walls, water stains, damage to interior paint, collapsed ceilings, or buckled floors.
Water drains into your attic: Water intrusion into the attic will greatly affect the integrity of your ceiling and may even cause it to collapse.
Exterior damage: Fascia boards, eaves, siding, and soffits are vulnerable to water damage, causing costly gutter issues and external wood repairs.
Mold & mildew growth: Mold and mildew can pose serious health issues, poor indoor air quality, and may lead to black mold over time.
Costly roof repair: Roof repairs from ice damage can cost thousands, depending on the severity of the issues. Structural damage, water damage, mold, weakened wood, and more are all problems that can come from ice dams.
Does your home have roof damage from ice dams? These roofing problems are hazards and can cause safety and health issues. That is why you should always consult a professional roofer. Not only does Klaus Larsen Roofing of Hudson Valley assess your home for ice dams during a roof inspection, but they can find out why these issues are developing in the first place and recommend roof repairs tailored to your situation.
How to prevent ice dams
Preventing ice dams and controlling ice damage is essential in keeping your roof and gutters' integrity intact. Although you can't prevent snow from collecting on top of your house, there are other ways to protect your home from water damage and ice dams.
Sealing attic air leaks: Sealing air leaks in the attic is one of the best things you can do. This will prevent heat from rising to the roof deck, causing snow to melt and trickling down to freeze.
Ensuring proper attic ventilation: Installing proper roof ventilation can keep the underside of the roof the same temperature as outside. This will stop ice dams before they have the chance to form and help you avoid roof repairs.
Installing protective ice & water shield: When installing an ice and water shield, a waterproof underlayment membrane is applied along your roof eaves to prevent ice damage from ice dams.
Knock icicles down: To repair any ice damage to your home, start by knocking down the icicles to avoid them breaking off and hurting someone below. This will also alleviate any pulling on your gutters or roof.
Break ice chunks free: Use extreme caution when attempting to access your roof during this time. It is always best to call a professional. In the chance you can't, try to chip away at the ice dam on your roof to rule out any further damage. If you suspect you need a roof repair, stop and call your local Klaus Larsen Roofing of Hudson Valley.
These precautionary measures are great to avoid roof repairs, electrical problems, ice damage, and more. Although you've taken the first steps in protecting your home, it's always best to have professionals take a look, implement prevention strategies, and make any necessary repairs.
Schedule a free roof repair estimate today
Having trusted professionals to look at potential water and ice damage from ice dams is the key to any successful roof repairs, attic insulation, and more. We're here to give you and your home the services it deserves to ensure any prevention strategies implemented stay intact for years to come.
Klaus Larsen Roofing of Hudson Valley gives your home all the services needed to be safe and dry this winter. Contact us today to find out which roofing services are most appropriate for your home!
Looking for a price? Get a no cost, no obligation free estimate.