Hail Damage Roof Repairs in White Plains, Newburgh & Nearby
What are signs of hail damage in Hudson Valley?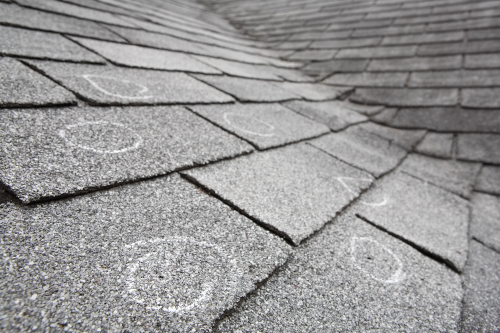 Hail damage can go unnoticed for months or years. Get a roof inspection to identify roof hail damage before problems get worse.
Has your home experienced a hail storm? If so, there could be significant roof damage that may not be visible for months or even years. Problems, such as roof leaks, can impact interior walls and ceilings, causing water damage and stains. Other types of roof damage after a hail storm includes broken or missing shingles, loss of granules, shiny asphalt, and visible abrasions that are soft to the touch.
If you're unsure whether your home has roof hail damage, schedule a roof inspection with Klaus Larsen Roofing of Hudson Valley! Our trusted roofers can examine your home and recommend roof repairs for your unique situation. We even provide free, no-obligation roof repair estimates for all work!
Whether your home needs roof hail damage repairs or a roof replacement, our roofing contractors can help. We serve New York areas throughout Carmel, White Plains, Newburgh, Rye, Kingston, and nearby.
How does roof hail damage impact your home?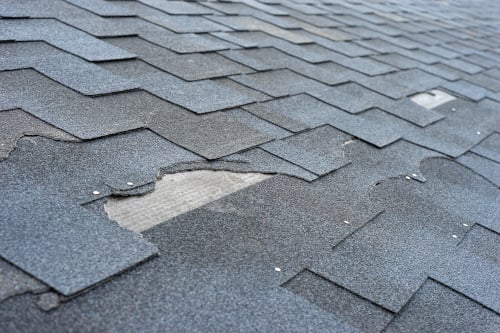 Missing granules, damaged shingles, and roof leaks are signs of hail damage. Hail damage can reduce the roof's lifespan and leave the home vulnerable.
Even if two neighboring homes have roof hail damage, no roofing problems are the same. One could have broken or cracked tabs on asphalt shingles. The other may experience crushed or dented granules forced into the shingles or missing. Plus, different parts of the roof may experience more damage than others, resulting from lashing wind hitting some areas of the home harder.
All of these problems on their own can shorten the roof's lifespan and leave the home vulnerable. For example, granules protect shingles from UV rays. Missing or damaged granules diminish the protection. For these reasons, hail damage repairs usually require an insurance claim.
Roofing problems caused by hail damage:
Damaged granules: Roof shingles are the first line of defense. Once the roof loses granules, which is the asphalt coating that protects the shingle, the home is more susceptible to the elements.
Missing & broken shingles: Once hail hits asphalt shingles, they may crack or completely break off. Hail damage can also hide underneath the shingle. If roof shingles become missing or damaged, then it exposes the underlayment.
Damaged fiberglass matt: Hail can also damage the fiberglass mat underneath the shingles. Once exposed and damaged, the entire roof is vulnerable to the elements. Unlike missing or broken shingles, a trained roofer is needed to identify an exposed or damaged fiberglass matt.
While missing or broken shingles, roof leaks, and damaged granules can all indicate hail damage, these roofing problems may also point to other causes. Hiring a professional roofing contractor for a thorough roof inspection clears the confusion, allowing us to identify roof damage and its cause. Ultimately, accurately identifying problems ensures the roof repairs your home receives are the ones it actually needs.
How to tell if your home needs hail damage repairs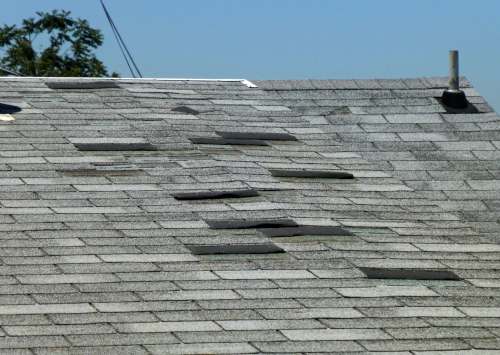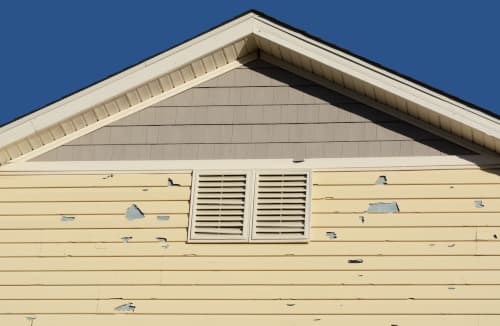 Unsure of whether you need roof hail damage repairs? Granules in the gutters, siding damage, and other visible exterior damage could be a sign.
Not all roof hail damage is visible right away, especially if there wasn't a severe storm with large hailstones. Whether your home has roof shingles deteriorating prematurely, roof leaks, or missing granules, roofing problems can take months or years to surface.
However, a good way to tell if your home has roof damage after a hail storm is to look at other areas of the exterior:
Damaged gutters: Dented or damaged gutters after a hailstorm may be the most obvious sign that the home sustained roof damage.
Clogged gutters: Overflowing or clogged gutters filled with granules is mostly likely a sign of shingle damage and that your home may need roof repairs.
Exterior storm damage: Visible siding damage, damaged decks, broken windows, or other problems to the exterior after a hailstorm can indicate whether you need hail damage roof repairs.
Damage around the yard: Landscaping issues, damaged plants, dented cars, abrasions on AC and HVAC equipment, problems with outdoor furniture, and other types of property damage around the yard are other signs to get a roof inspection after a hailstorm.
Professional hail damage roof repairs
If you're worried about damaged shingles, roof leaks, or missing granules after a hail storm, contact your professional roofing contractor at Klaus Larsen Roofing of Hudson Valley! We know roof hail damage may not be visible for months or even years. That's why we advise homeowners to call their insurance agent before any damage worsens.
Schedule a free roof hail damage repair estimate to learn more. We offer free roof inspections to New York homeowners in Kingston, Rye, Yorktown Heights, Poughkeepsie, New Windsor, Mahopac, Middletown, White Plains, Carmel, Newburgh, and nearby. Schedule yours today and protect your home against the elements!
Looking for a price? Get a no cost, no obligation free estimate.