Emergency Roof Repairs in White Plains, Carmel, Newburgh & Nearby
What to do when you need emergency roof repairs?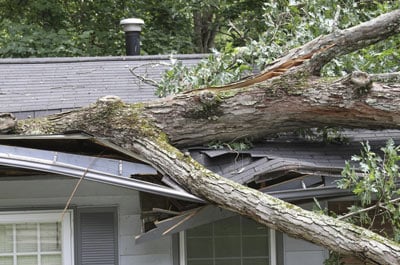 Unexpected roof problems and storm damage can happen at any time. That's why our roofers provide quick and professional repairs!
Roofing emergencies, such as hail and other storm damage, can affect your Hudson Valley home at any time. And while no homeowner wants to deal with emergency roofing problems, acting quickly can ensure the safety, security, and value of your home. That's why Klaus Larsen Roofing of Hudson Valley offers the right expertise and equipment to ensure professional and fast emergency roof repairs for roof leaks and other issues.
Even with routine roof repairs and maintenance to protect the roof, some emergency roof damage is out of your control. Emergency roof repairs are needed when:
Roof leaks, storm damage & problems need quick roof repairs
Your home has dangerous roof damage
Roof leaks & roof damage can lead to more issues, such as interior water damage or flooding
If your home needs emergency roof repairs or other roofing services, call 1-844-471-0120 or click below to schedule a roof inspection and a free estimate! We serve New York homeowners in Rye, Kingston, Carmel, White Plains, Newburgh, and areas nearby.
Examples of roofing emergencies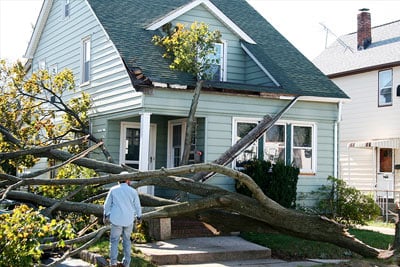 Get back to normal with quick and reliable emergency roof repairs from our roofing contractors.
Some roofing emergencies are noticeable, such as water flooding into the home through a roof leak, a gaping hole from a fallen tree, or missing shingles from high winds. Many of these emergency roof repairs follow a severe storm to other harsh weather. But regardless of the cause of roof damage, Klaus Larsen Roofing of Hudson Valley can help with:
An aging roof & natural wear: After years of natural wear, severe weather, and sun exposure, the roof eventually weakens. This can lead to roofing emergencies, including roof leaks, holes, and a rotting structure.
Damage from fallen tree limbs: Fallen tree limbs are a hazard to the entire home and can weaken the roof. While issues from a fallen tree limb may not seem severe, there still may be a danger.
Damaged asphalt shingles & roof decking: Once the roof decking and shingles are damaged, this can lead to a major roof leak. Roof leaks expose the home to the elements and can cause interior water damage.
Ice dams & ice buildup in valleys: If your roof has ice dams, water can build up under shingles and drain into the home. Some signs of ice dams include ceiling leaking, which could mean you need emergency ice dam removal.
Incorrect installation: If your roof was installed incorrectly, there is no guarantee that the system will protect the home from the elements or last as long as it's meant to. Any number of factors can cause a roof leak and other damage.
Flashing failures: If the flashing around roof penetrations, including chimneys, vent stacks, and dormers, is installed incorrectly or becomes damaged then this can lead to a major roof leak.
How to respond to a roof emergency
It's important to stay safe while waiting for an experienced roofing contractor like Klaus Larsen Roofing of Hudson Valley. If your home needs emergency roof repairs, follow these guidelines:
Don't go on the roof: We never know the extent of problems on a damaged roof, making it a dangerous environment. So you should let a professional be the first to check it out.
Call the insurance company: After a roofing emergency, an insurance company will send an adjuster to provide an appraisal for the damage and help you with the cost of emergency roof repairs. They can also provide a place to stay if roof problems are too severe.
Contact Klaus Larsen Roofing of Hudson Valley: Our roofers quickly respond and send one of our servicemen to your property. Remember that if the emergency happens during a hurricane, severe hailstorm, or in other hazardous conditions, response times may be slower as we wait until the danger subsides, ensuring the safety of our crew.
Protect the interior: If the home is safe, cover leaks and holes in living areas with tarps, buckets, or other waterproof items. This will collect water and protect surfaces from the elements until help arrives.
Inspect the roof visually: Visually inspect your roof from a safe distance on the ground to note debris and possible roof damage.
Our approach to emergency roof repairs
Experiencing severe roof damage can be scary. That's why you'll want to contact a qualified roofer that is ready to offer a quick, reliable response. Many less-than-reputable roofing contractors will take advantage of homeowners after severe weather or a disaster, demanding large deposits and then never finishing the job.
But with Klaus Larsen Roofing of Hudson Valley, you can have peace of mind. We are licensed, insured, and trained to deal with any roofing emergency you may have. We use top-quality materials and the best solutions to ensure your home is safe and protected after a roofing emergency.
Inspect the damage: Do not attempt to climb onto the roof to assess damages. If you can, document problems and take photos from a safe distance on the ground for your insurance company. Once one of our professionals arrives, they will safely inspect the area and evaluate all damages.
Tarping: Do not attempt to tarp the roof on your own. DIY tarping is dangerous and can lead to serious injury. Plus, tarping the area yourself can also cause additional damage to the property if done incorrectly. A professional will securely tarp your roof to protect the home from the elements.
Assessing the structure: If the structural integrity is compromised, a roofer may advise you to find somewhere to stay until they repair the structure.
Hail, storm damage & emergency roof repairs
Severe storm damage and hail can cause significant roof damage. Whether roofing problems are from gusting winds, torrential rains, heavy snow, or large hailstones, Klaus Larsen Roofing of Hudson Valley can help with a quick and professional response for:
Missing or broken shingles
Damage to the underlayment
Heavy roof leaks
Fallen tree limbs
If the storm is still occurring, our crew may need to wait until conditions are safe before coming to the property. That's why we always advise you to stay off of the roof and don't try to climb up to evaluate the damage or tarp any holes.
When our roofers arrive, they safely inspect all roof damage. Then, we securely tarp exposed areas, providing temporary protection from the elements and preventing secondary damage. After, we recommend roof leak repairs or other types of roofing services to restore the structural integrity of the system.
Get quick & reliable emergency roof repairs
Does your home have roof storm damage, a serious roof leak, significant wind damage, or another type of roofing emergency? Klaus Larsen Roofing of Hudson Valley can handle any emergency roof repairs! We offer quick and professional responses in your time of need.
We offer roof inspections and free estimates on all of our roofing services, including roof repairs and roof replacements. Schedule yours today! We serve New York homeowners in Kingston, Rye, Yorktown Heights, Poughkeepsie, New Windsor, Mahopac, Middletown, White Plains, Carmel, Newburgh, and nearby.
Looking for a price? Get a no cost, no obligation free estimate.